About Us
About The Company
-We're proud to offer the finest floral arrangements and gifts in North Olmsted
-Full service florist
-Contemporary & traditional arrangements
-All products are 100% guaranteed
-100% customer satisfaction
-Call us for all your floral gift needs
Our store is closed at this time. We are still accepting orders for delivery online 24 hours a day and by phone Monday - Friday, 10:00 AM to 4:00PM.

To help assure on-time delivery during the busy holiday season, place your order at least 1 day prior to the following major holidays:
Thanksgiving Day, Christmas Day, New Year's Day, Valentine's Day, Easter, Administrative Professionals Week, Mother's Day, Memorial Day, Father's Day, Independence Day and Labor Day.

Our shop will always be closed on the following holidays:
Thanksgiving Day, Christmas Day, New Year's Day, Easter, Mother's Day, Memorial Day Father's Day, Independence Day and Labor Day.
---
Additional Information:
Our shop is closed to the public at this time, but we are still taking online orders and phone orders for delivery. We are closed on Sundays. To help assure on-time delivery during the busy holiday season, place your order at least 1 day prior to the following major holidays: Thanksgiving Day, Christmas Day, New Year's Day, Valentine's Day, Easter, Administrative Professionals Week, Mother's Day, Memorial Day, Father's Day, Independence Day and Labor Day. Our shop will always be closed on the following holidays: Thanksgiving Day, Christmas Day, New Year's Day, Easter, Mother's Day, Memorial Day Father's Day, Independence Day and Labor Day.
Payment Options
We accept the following payment methods:
Visa
MasterCard
Discover/NOVUS
Diners Club
Carte Blanche
JCB
American Express
House Account Invoicing
Pay by Phone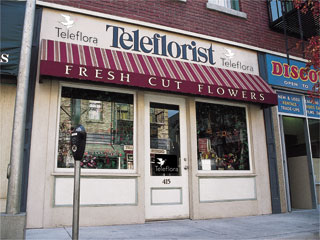 Areas Served
Our shop serves the following areas:
Bay Village, Fairview Park, North Olmsted, Rocky River, and Westlake.
We also deliver to the following facilities:

Abington Arms Apartments
Adams Mason Funeral Home
Advantage Health Partners Inc
Alcazar Hotel
Algart Health Care Inc
Altenheim Nursing Home
Altercare Of Mayfield Vlg Inc
Amasa Stone House
Ambleside Tower
Antioch Towers
Apthorp Tower
Arden Courts
Arden Courts Parma
Aristocrat Berea Health Care
Aristocrat Lakewood Nursing
Aristocrat Lakewood Retirement
Aristocrat South Retirement
Aristocrat West Nursing Home
Arthur L Rogers Funeral Servic
Ascension Village Apartments
Aspen Woodside Village
Associated Health Care Mgmt Co
Athenian Assisted Living
Avon Oaks Nursing Homes
Babitt Funeral Home
Badea Alexandru
Baines & Hunter Funeral Servic
Baker, Osinski, Kensinger Fune
Baldwin Manor
Beach Park Towers
Beachwood Nursing & Healthcare
Beehive Classroom Apartments
Belvedere Of Westlake
Berea Lake Towers Retirement
Berea Quality Care Nursing Ctr
Berkowitz-Kumin-Bookatz
Berry Funeral Home
Berry's Funeral Home
Bican Brothers Funeral Home
Blessing Cremation Ctr
Bodnar-Mahoney Funeral Homes &
Bohn Tower
Bollinger-Bican Funeral Home
Bradley Bay Health Ctr
Brae View Care & Rehab Ctr
Brendan Manor Inc
Brian Kelly Embalming-Funeral
Brighton Gardens
Brinkman-Dress Funeral Home
Broadview Multi Care Ctr
Brookside Estates
Brown-Forward Funeral Home
Busch Funeral & Crematory Serv
Busch Funeral and Crematory Se
Busch-Saxton-Parker-Daniels
Calhoun Funeral & Cremation
Campbell Court
Candlewood Park Health Care
Cannon, LoPresti & Catavolos F
Carey Funeral Home
Carter Manor Apartments
Castle Pines Retirement Cmnty
Catholic Community Care
Cedar Center Apartment
Cedar Plaza Nursing
Cedarwood Plaza
Center For Health Affairs
Century Oak Care Ctr
Chambers Funeral Home
Chambers Funeral Homes
Chippewa Place
Cityview Nursing & Rehab Ctr
Cleveland Clinic
Cleveland Clinic Cancer Center
Cleveland Clinic Hersch Cancer
Cleveland Clinic Pain
Cleveland Clinic Subacute Svc
Cleveland Golden Age Hlth Care
Cleveland Golden Age Hospital
Cleveland Rehab & Special Care
Clifton Plaza Apartments
Columbnus Park Apartments
Community Circle Apartments I
Community Circle II
Corrigan Craciun Funeral Home
Corrigan-Deighton Funeral Home
Council Gardens
Covenant Care Ctr
Craciun Berry Funeral Home
Craciun Funeral Home
Cremation Society Of Ohio
Crestmont North Nursing Home
Crestview Apartments
Crobaugh-Danaher Funeral Home
Crystal Waters
Cummings & Davis Funeral Home
Cummings and Davis Funeral Hom
Cuyahoga Housing Authority
Daniel L Berry Funeral Drctr
Darby & Fields Adult Foster
David G Martens & Son Funeral
Deaconess Family House
Deaconess Medical Arts Bldg
Deaconess Medical Ctr
Deaconess-Zane Center
Detroit Terrace Apartments
Di Cicco & Sons Funeral Home
Dicicco & Sons Funeral Home
Doan Classroom Apartments
Donald Martens & Sons Funeral
Donlon Funeral Home
Dostal Funeral Svc
E F Boyd Funeral Home
E. F. Boyd & Son Funeral Home
East Park Care Ctr
East Park Retirement Community
Eastern Star Home-Cuyahoga
Educators Apartments
EF Boyd & Son Funeral Home
Eliza Bryant Ctr
Eliza Jennings Home
Emerald Ridge Senior & Health
Emeritus House
Emery Medical Management Co
Enniscourt
Eric J.Williams Funeral Homes
Euclid Beach Villa
Euclid Villa Apartments
Fairfax Place
Fairview Enterprises Inc
Fairview Hospital
Falling Water Health Care Ctr
Faulhaber Funeral Home
Fedor Manor
Fenway Manor
Ferrara Funeral Home
Forest Hills Nursing Home Inc
Foresthill Terrace Apartments
Fortuna Funeral Home
Fountains On The Greens
Franciscan Village
Franklin Plaza Nursing Home
Gaines Funeral Home
Gates Mills Club Residence
Gateway Family House
Gateway Health Care Ctr
Gateway Retirement Community
Geri-Care Inc
Golden Age Ctr
Golub Funeral Home
Golubski Deliberato Funeral
Golubski Funeral Home Inc
Good Samaritan Skilled Nursing
Grace Hospital
Grand House Group Home
Grande Pointe Healthcare Comm
Greenbraiar Security
Greenbriar At River Valley
Greenbrier
Greens Adult Living Community
Greens Postacute & Rehab Ctr
H M Martin Funeral Home Inc
Harbor Court Retirement Comm
Harborside Healthcare
Harborside Westlake
Health Hill Hospital
Helen S Brown Towers
Heritage Care Nursing & Rehab
Hill Side Plaza
Hillandale Manor
Hilltop Village-A Retirement
Holan-Komorowski Funeral Home
Holowchak Funeral Home
Holy Family Cancer Home
Homewood At Rockefeller Garden
Homewood Residence
Hopko Funeral Home
Hospice Of The Western Reserve
House of Wills
Howard Robbins Tower Apts
Humenik Funeral Chapel
Huron Hospital
Ideal Mobile Home Park Inc
Independence Place I
Independence Village
Indian Hills
Indian Hills Nursing Ctr
Inman Shipping Worldwide
Issenmann Place
Jaelot Apartments
Jakubs & Son Funeral Home
Jenkins Funeral Chapel
Jennings Center-Older Adults
Johnson-Romito Funeral Homes
Judson Day Retirement Ctr
Judson Retirement Community
Kacirek Funeral Home
Kaiser Permanente
Kemper House Of The Falls
Kethley House
Kindrich-McHugh Steinbauer Fun
King Kennedy-North Tower
Kirby Manor
Knickerbocker Apartments
Knollwood Cemetery
Kolodiy-Lazuta Funeral Home
Kolodiy-Sobczyk Funeral Home
Komorowski Funeral Home
Lake Avenue Commons
Lake Shore Towers Inc
Lakewood City Of Aging
Lakewood Hospital
Larchwood Place
Laurelwood Counseling Ctr
Legacy Health Svc
Life Care Ctr Of America
Light Of Hearts Villa
Lilian Gonsalves
Little Sisters Of The Poor
Lucas Memorial Chapel
Lupica Towers
Luther House Sr Citizens Apts
Lutheran Home For The Aged
Lutheran Hospital
M S Healthcare Inc
Madonna Hall
Maher-Melbourne Funeral Home
Mallchok Funeral Home
Malloy-Esposito Funeral Home &
Mandley-Vetrovsky Funeral Hms
Mandley-Vetrovsky Funeral Home
Manor Care Arden Courts
Manor Care Health Svc
Maple Care Ctr
Marymount Place
Mayfield Co
Mc Cafferty Health Ctr
Mc Gorray Brothers Trust 100
Mc Gregor Co
Menorah Park Ctr For Sr Lvng
Meridia Euclid Hospital
Meridia Skilled Nursing
Metro Health Ctr For Nursing
Metro Health Ctr For Skilled
Metro Health Medical Ctr
Metro Health Southwest Medical
Metrohealth
MetroHealth Brooklyn Hlth Ctr
MetroHealth Department of
MetroHealth Lee-Harvard Hlth
Metrohealth Medical Ctr
MetroHealth System
MetroHealth West 150th Health
MetroHealth West Park Health
Miles-Elmarge Estate
Millennia Housing Management
Miller-Mc Fall Funeral Home
Ministry To The Aged
Misencik Funeral Home
Montefiore
Moore Funeral Chapel
Morgal Manor
Mosinski Funeral Home
Mount Royal Villa Care Ctr
Mt Alverna Home Inc
Mt Sinai Medical Ctr
Mullaney Barth Funeral Service
Musicians Towers
National Mortuary Shipping
NEON Miles Broadway Health
Nesbitt Funeral Home
Nickels & Andrade Funeral Home
Normandy
North Olmsted Home Care Ctr
North Park Retirement Comm.
Northwesterly Assisted Living
Northwestern Nursing Ctr
Nosek-McCreery Funeral Home
Oak Park Health Care Ctr
Oakridge Home
Oaks
Oakwood Villa Resident Counsel
Old Brooklyn Adult Care II
Olmsted Manor Ltd
Olmsted Manor Nursing Home
Olmsted Manor Retirement
Options In Long Term Care
Orlean Co-Normandy Two
Osteoporosis Clinic
Our House
Our Lady Of Mt Carmel Church
Owl's Nest Apartments
Palm Crest Bellaire Nursing Hm
Pan-American Retirement
Paramount
Park Creek Retirement Cmmnty
Park Denison
Parkside Villa
Parkview Apartments
Parkway Medical Ctr
Parma Care Ctr
Parobek Funeral Home
Patrician Skilled Nursing
Patrician Skilled Nursing Ctr
Pearl Crossing
Pearl View Inc
Pernel Jones & Sons Funeral Ho
Phoenix Residential Ctr
Pine Grove Habilitation Ctr
Pinzone Tower Apartments
Pleasant Lake Villa
Pleasantview Care Ctr
R A Prince Funeral Services
Rae-Ann Ctr
Rae-Ann Suburban
Raeann Westlake
Renaissance
Retirement Co
Riczo Funeral Home
Riverpark Apartments
Rockefeller Park Towers
Rockport Retirement Community
Rockside Internal Medicine
Royal Oak Rehab Ctr
Royal Somerset Point
Ru-Clare Adult Day Care Svc
Rudwick Manor Special Care Ctr
Rybicki & Son Funeral Homes
Safely Home
Saint John West Shore Hospital
Sauer Funeral Home
Sauer-Good-Powell Funeral Home
Schnurmann Houses & Luther
Schulte & Mahon-Murphy Funeral
Schuster-Straker-O'Connor
Senior Health & Wellness Ctr
Shaker Place Apartments
Shurmer Place
Singleton Health Care Ctr
Sisters Of St Joseph-St Mark
Slone & Co. Funeral Directors
Slovene Home For The Aged
Solon Medical Campus
South Haven Woods Retirement
Southern Hills Health & Rehab
Southwest General Health Ctr
Southwest Urgicare Ctr
Spring Hill Villa
Springbrook
Springhouse Manor Care Health
St Andrew's Towers
St Augustine Manor
St Augustine Towers
St Clair Place
St John Dialysis
St John Funeral Home
St John West Shore Hospital
St Luke's Foundation
St Luke's Urgent Care
St Mary Of The Woods
St Micheal Hospital
St Vincents Medical Group
St. Vincent Charity Med Ctr
Stas Funeral Home
Statesman Apartments II
Stone Gardens Assisted Living
Strowder's Funeral Chapel
Suburban Pavilion Inc
Sunrise Assisted Living
Sunrise Pointe
Sunset Memorial Park
Sunset Nursing Home
Surgery Center
Sutphen School Of Music
Tabone Komorowski Funeral Home
Terrace Tower
Thomas G Smith Funeral Home
Tomon & Sons Funeral Home
Tomon & Sons Funeral Homes
Traditions Care Ctr
Turk Professional Svc
UH Parma Health Education Ctr
UH St. John Medical Center
University Circle Place Apts
University Hospital
University Hospital of Clevela
University Hospital Womens Svc
University Hospitals
University Hospitals Avon
University Hospitals Bedford
University Hospitals Education
University Hospitals Home Care
University Hospitals Otis Moss
University Hospitals Parma
University Hospitals Regional
University Hospitals Westlake
University Manor Health Care
University Mednet Physician
University Suburban Hlth Ctr
University Towers
US Veterans Hospital
Valley Road Villa
Villa Care Ctr
Villa Mercede Apartments
Villa Sancta Anna Home
Villa Serena
Village Of The Falls
Visiting Angels
Vitantonio-Conti Funeral Homes
Vitantonio-Previte Funeral Hom
Vito-Nero Funeral Home
Vodrazka Funeral Home
Wade Park Apartments
Walter Martens & Sons Funeral
Walton Manor Health Care Ctr
Warrensville Community Apts
Warrensville Manor
Watson's Funeral Home
Welsh Home
Westchester Woods At The Oaks
Westerly Apartments
Westlake Health Care
Westlake Village Retirement
Westwood Place
White Cross Hospitalization
Whitehaven Memorial Park
Willow Park Convalescent Ctr
Wills Funeral Homes
Wischmeier Funeral Home
Wynwood
Yue Cheung Cho
Yurch Funeral Home
Zabor Funeral Home Inc.
Zak Funeral Home Inc
Zeis-Mcgreevey Funeral Home
Zele Funeral Homes Inc
Specialty Services
We specialize in the following services:
Large inventory of fresh flowers
Tropicals
Plants
European/dish gardens
Contemporary and traditional arrangements
High-style floral arrangements
Silk arrangements
Dried floral arrangements
Weddings
Funeral designs
Extensive gift line
Gourmet and fruit baskets
Gift baskets
Greeting cards
Candles
Contact Information
If you have any questions or need more information, please call us directly at (888)521-7673
We're always here to serve you and make your flower-sending experience a pleasure.

Wilhelmy's House of Flowers
24353 Lorain Road
North Olmsted, OH 44070
Delivery Policy
A local delivery fee of $9.95 will be added to each order, for each address. (For deliveries outside our local delivery area, this fee may vary.)
U.S. orders must be received before 12:00 noon in the recipient's time zone to assure same-day delivery. Orders received after that time will be delivered the following day.
We will do our best to accommodate deliveries at specific times of day, but we cannot guarantee it.
We are unable to make deliveries on Sundays. Deliveries requested on this day will be delivered the following business day.
Delivery of orders to rural route addresses or cemeteries cannot be guaranteed.
We will be happy to accept your international orders if you call our shop directly. We are unable to accept international orders over the Internet.
Substitution Policy
Occasionally, substitutions may be necessary to create your bouquet due to the availability of certain flowers in various parts of the country. Care is taken to maintain the style, theme and color scheme of the arrangement, using flowers of equal value. Additionally, the substitution of certain keepsake items may be necessary due to increased demand, especially during major holidays. In single-flower arrangements, such as an all rose bouquet, or orchids, we will make every attempt to match the flower type, but may substitute with another color.